Introduce your team briefly.
Welcome to HAWKS Racing! Our Workshop is located in Hamburg, in the north of Germany, and we are part of the UAS Hamburg. We were founded in the early 2000s and have been the first Formula Student team in Hamburg and the fourth in Germany. Since then, we have been building our combustion vehicles and are proud to manufacture our 16th car this season.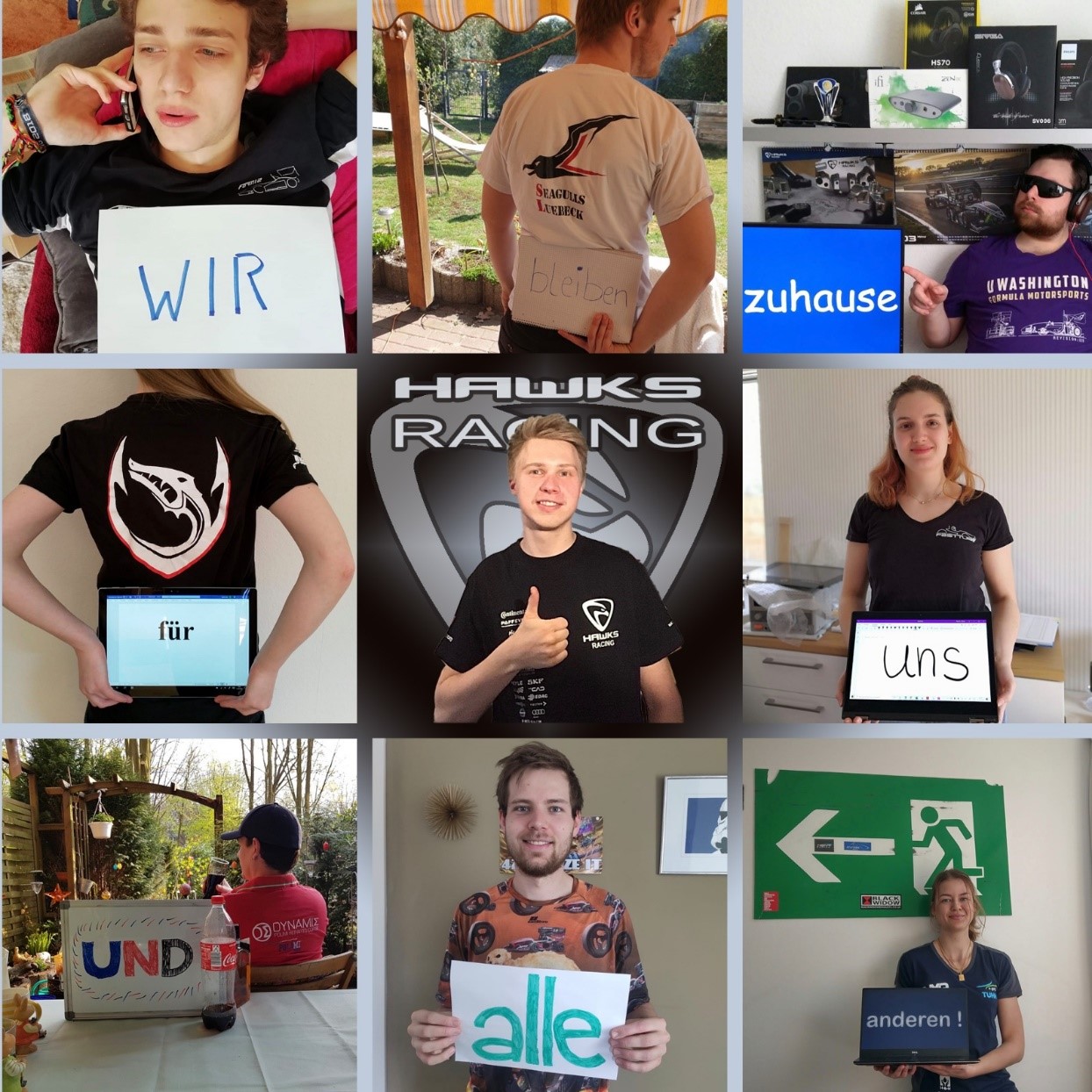 How did the cancellation of the formula student competitions impact your team?
As in all Formula Student teams, our deadlines and time schedules are tightly adjusted to the schedules of the events in summer. Therefore, we needed to decide about our next steps and how to continue in the current situation. We organized voting, where all team members were asked to vote in favor of their preferred plan for continuing the season. It was decided that we continue building our H16 combustion vehicle and our first Driverless car and take them to the events in 2021. This, and the online event, helps to maintain the motivation needed to build the cars.
How did your team deal with the situation, what challenges did you face and how did you resolve them?
Like many other teams, we were facing a closed workshop, due to measures taken by our university against the spread of the virus. Therefore, we started to meet online on a regular basis and planned and organized our team while staying at home. We had originally planned to build our first EV car after the events in summer. Due to the circumstances and the result of our vote, we postponed this project to 2022. And to keep the motivation high, we decided to take the opportunity to participate in FS Online.
What will you do differently for the online event?
In the online event, we can't present our engineering design ideas in person but have to instead submit videos. Therefore, it`s fun to think about exciting ways to show what we have done and what we plan on doing, making use of some new possibilities that videos can give us. Also, there is a huge difference regarding our car. Due to the fact that we haven't yet been able to complete our H16, we had to try to explain our new ideas with the help of last season's H15 car.
What is your biggest achievement in Formula Student so far?
In May 2016, we managed to enter the Top 10 of the world ranking list, after flying to Michigan with our 11th car H0XI. In recent years, we focused more on innovation, which caused us to drop considerably in the world ranking, but we got rewarded in 2018 with the MTU Most Innovative Powertrain Award for our newly-developed and unique powertrain.
Do you believe the future of Formula Student can adapt to the COVID-19 crisis and how?  
As the Formula Student has a long tradition by now, it will be possible to keep its spirit alive, even in difficult situations. Every team has to find its way of building their car, which applies to all seasons and is now even more important. With all the online tools it should be possible to communicate with each other and thus find solutions even for difficult decisions. For all teams and events, we think communication is the key to the FS Events in the future. We have to adapt to different situations in different countries which is only possible if an exchange of all team's circumstances and conditions is supported.
What can the Formula Student organizing bodies do to help the struggling teams due to the current events?
We think flexibility is the key here. Listen to the current needs of the teams and be open to creative solutions that solve particular problems. Also, we need open communication and transparent decisions concerning these struggles.
Do you think there are any positive outcomes for the competition from the current situation? 
As emphasized before, we all learn to be more flexible. Furthermore, our ability for improvisations is enhanced even further than in the usual season ;).
Do you think it is beneficial for the teams to participate in an online competition and why?
As we decided to stretch the season and build our current cars for the events in 2021, it is hard to continue working as we were accustomed to. Without hard external deadlines, the motivation of the team takes quite a hit. Of course, we can set our own internal deadlines and time schedules, but the competition at an event is still a major reason for the team's willingness to put all their effort into the car. Therefore, an event, even if it's online, helps to keep the motivation, and thus the effort being put into the cars, high.
Did your team help your local society with the COVID-19 situation, if no, please ignore this question, if yes, please provide an example.
As we have a lot of FFP2 masks for working on our carbon-fiber parts, we decided to give some of them to nursing auxiliaries in need of additional masks.
Personal Statement
We hope, that everyone is staying safe and can enjoy this online event 😊
Last but not least, we want to introduce you to our newest, four-legged Team member, pebbels! One of our Members often brings her to the workshop and all the team loves her. She gives additional support and motivation!