Interview – Arrabona Racing Team
Introduce your team briefly.
Our team was founded in 2014 on the Department of Whole Vehicle Engineering of the Szechenyi Istvan University with an ambitious goal: to be able to participate in the 2014 Formula Student season, which we not only managed but also achieved an incredible 1st place overall on our first ever competition. Now, we are seven years into designing and manufacturing Formula Student race cars to compete with on competitions such as FS Germany, FS East, FS Austria, and many more.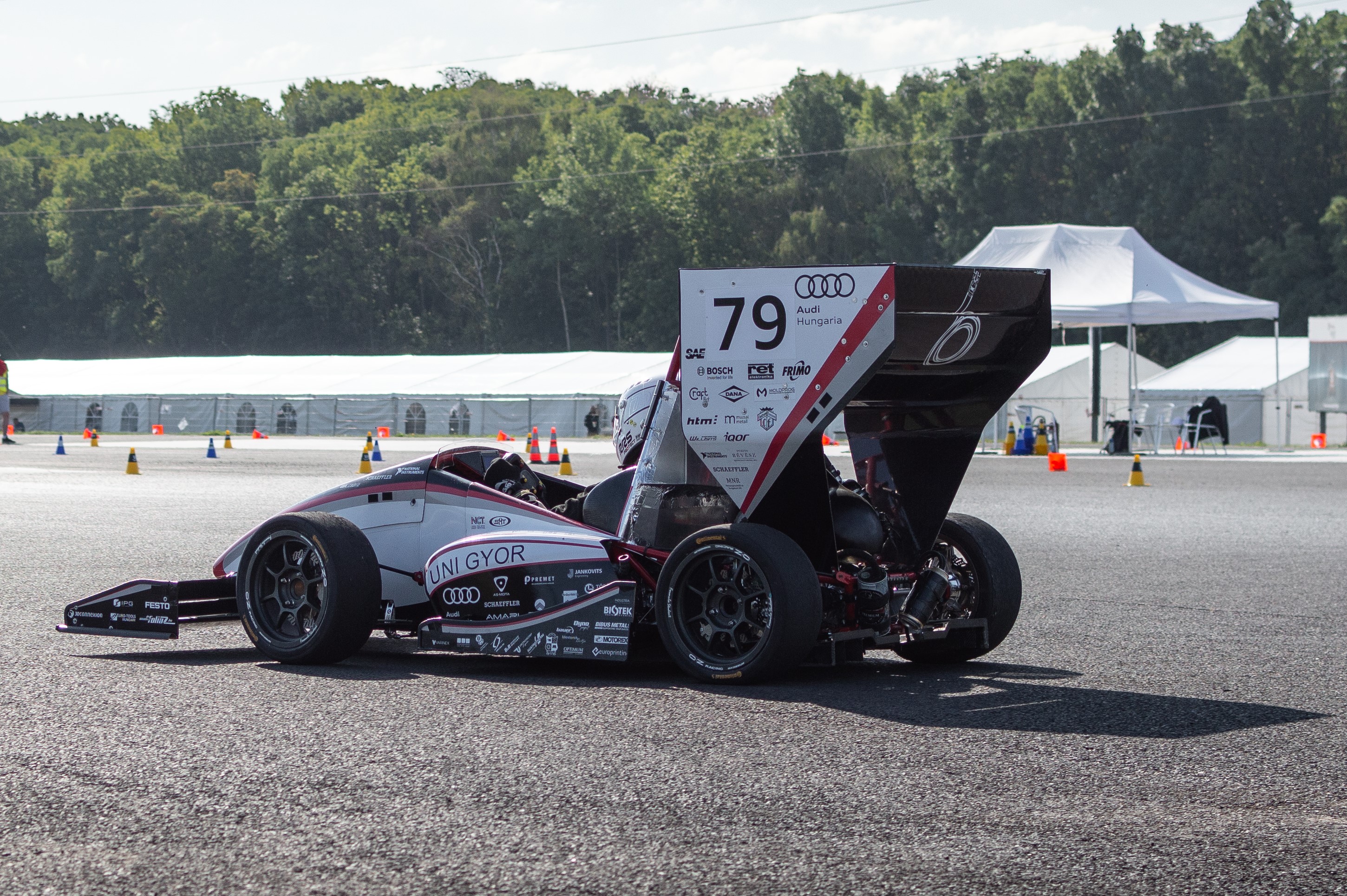 How did the cancellation of the formula student competitions impact your team?
We did not take these decisions lightly; however, it is easy to understand that calling the cancellation of Formula Student events was a necessary step towards helping to fight the spread of the coronavirus. It will be a strange summer, to say the least, but if there is one upside we are trying to look at, is that the costs of traveling and competing stay in our pocket, and we can regroup these resources for some really exciting and important future developments.
How did your team deal with the situation, what challenges did you face and how did you resolve them?
Obviously, the emergency caused by the COVID-19 pandemic caught us – just like everyone else – by surprise, with little to no time for preparation. One of our biggest challenges was to keep the team spirit and the members motivated during the lockdown. We were pretty quick to settle with Google Meets meetings and put a lot of energy into online workshops for our members on the topic of being productive in home-office. Our main goal was to do as much as we can from home, which mostly included planning our activities for after lockdown, preparing for the static events, creating time-plans, and so on.
What will you do differently for the online event?
Most importantly, the time and effort we put in for the preparation is not less, but rather even more than before, because we all know that most teams will be pretty solid in the static events, as probably they also spent their time during lockdown with preparation. Of course, the differentiating factors will be that we will have to pre-record our Business Plan Presentation as a video, just like with the Engineering Design Event, which will be a new concept of not having able to show our car in real life.
What is your biggest achievement in Formula Student so far?
Even though, in the beginning, we mentioned that on our first ever competition we were able to achieve an overall first place in Russia, 2014, but that memory, as sweet as it is would only come second. Our biggest achievement is getting overall 3rd on Formula Student East 2019, on a competition peppered with top-tier teams, with our sixth-gen race car, ART_06, proved to be a reliable and fast car.
Do you believe the future of Formula Student can adapt to the COVID-19 crisis and how?
We are not sure if the virus will stick around for the summer of 2021 – we definitely hope that it will not be the case -, however, if so happens, then we are sure that the Formula Student community will be able to adapt to the situation. For once, there is Formula Student Online, which will probably set the standard for online competitions for the future, and there are many precautions an organizer can take (e.g.: requiring face masks, providing hand sanitizers, limiting the number of people in any closed area/room, etc) which should be able to make a Formula Student event a viable option.
What can the Formula Student organizing bodies do to help the struggling teams due to the current events?
We think most teams are struggling because they are not able to do what they love the most: to build race cars and compete on events. Regarding the financial side of things, we know, that probably there will be sponsors, who will not be able to support the movement of Formula Student any more due to their own financial difficulties, and this can result in a smaller budget for the teams, but we are unfortunately not able to come up with a solution to this problem on our own. What could maybe work, is a forum of some kind, where the representatives of teams from all around the world could express themselves and the problems and difficulties their teams are facing.
Do you think there are any positive outcomes for the competition from the current situation?
A definite positive outcome is that people will pay much bigger attention to staying hygienic, even on Formula Student competitions and probably they also will value their time which they can spend in FS much more. Last, we think that teams will put much more energy into getting more and more sponsors because this virus showed how vulnerable we are for any big economical change hitting the companies supporting us.
Do you think it is beneficial for the teams to participate in an online competition and why?
Yes, we do. As all competitions were canceled for the summer of 2020, it is easy to see that for one, we are eager to compete with other teams, even if it is on an online platform, and maybe even most importantly, we still would like to validate our concepts in front of judges, regarding our car design, our business plan and our overall preparation for the static events. We think that Formula Student Online is a great opportunity to practice our skills and to keep our minds sharp rather than just skipping an entire season without competing.