Introduce your team briefly please.
We are the oldest team in the Czech Republic, currently in our 12th racing season. We have been known for being a very small team, yet capable of building a competitive car. However, currently, we are undergoing some managerial changes and we have a large number of new members.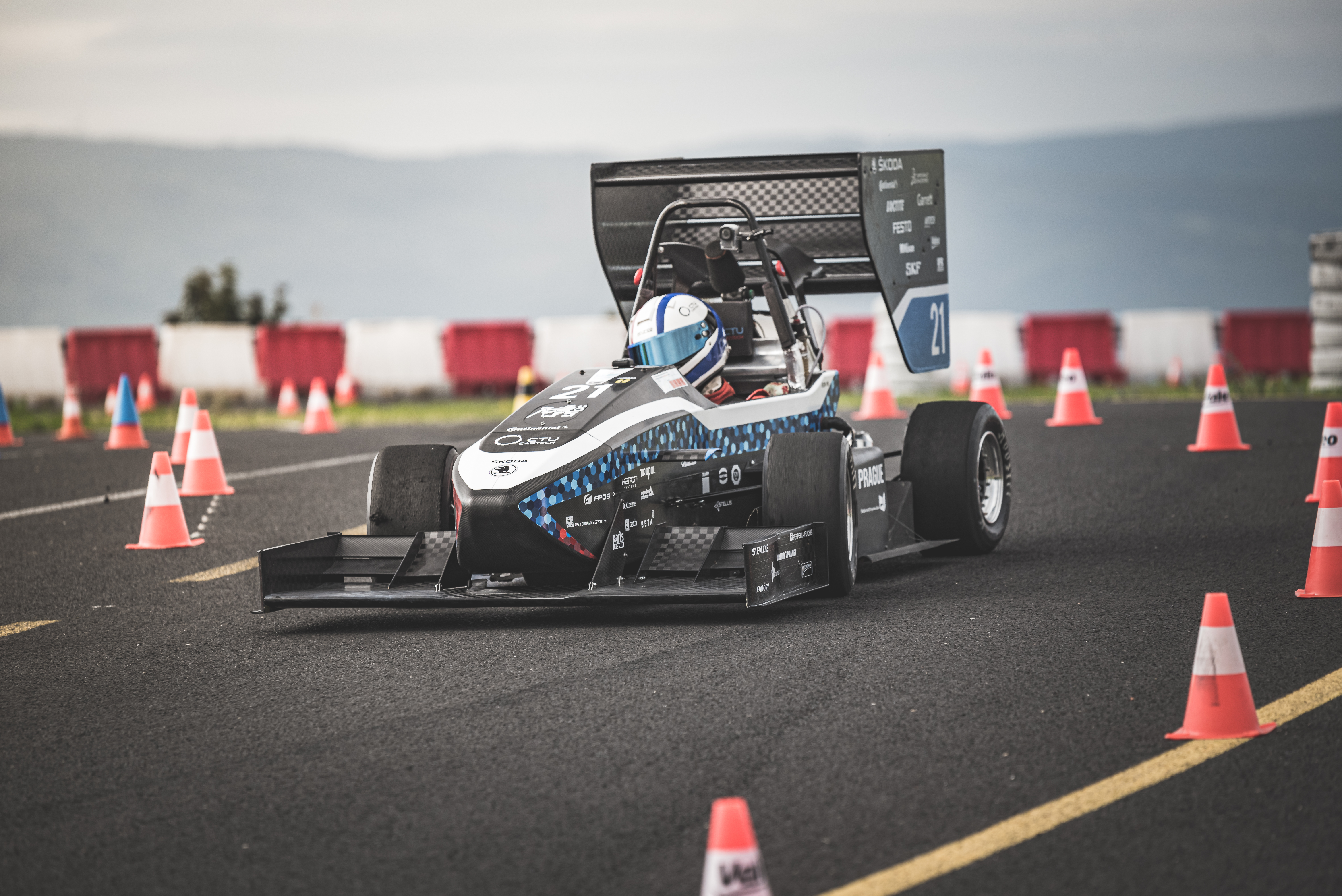 How did the cancellation of the formula student competitions impact your team?
The true impact of that will show only in the long-run since the races are major team-forming events. Therefore we try to use every chance to get new experience, train our team, and test ourselves against the competition. Another challenge is the loss of funding from some of the sponsors. However, most of our partners are very supportive even in those times, so hopefully, we will be able to get through this with only minor budget cuts.
How did your team deal with the situation, what challenges did you face and how did you resolve them?
Right after the corona outbreak, our workshop got closed and the manufacturing stopped. We had to assess our options and replan our season. After that, one of our worries was keeping the team together and focused on our new goals. Luckily, after things settled down, the team got back to work and we managed to adapt to the new circumstances. Regular online meetings, personal work reports, and careful planning were all important factors in keeping the team in order. What kept us going through, was mainly the dedication and a thirst for winning of our members. We are very proud of that.
What will you do differently for the online event?
Since the format of the competition is different, we are preparing our presentation in a very structured way in order to explain our decisions and processes most clearly and effectively. We are putting a lot more effort into static disciplines as opposed to a regular racing season.
What is your biggest achievement in Formula Student so far? Technically, our biggest achievement is the last year's overall victory at FSCzech. It was the first time that we won 1st place overall at any competition. However, that win was a result of many achievements along the way that together resulted in a great car, a great group of people, and finally great results in the whole season.
Do you believe the future of Formula Student can adapt to the COVID-19 crisis and how?
It will be a challenge, but we believe, that the demand of the students for this project is so high, that we or the organizing bodies will find a way how to adapt. We have seen the dedication not only among the teams but also on the side of the organizers. FS Online is a great example of that.
What can the Formula Student organizing bodies do to help the struggling teams due to the current events?
Since the races are out of the picture, it is important to replace a very important part of the competitions,  which is the feedback from judges during static disciplines. Next to the overall experience from participating, it's a valuable lesson that helps the teams to address their weak spots and grow beyond them. Workshops similar to FSG academy or FSSymposium, where students could get feedback on their work and useful advice might be helpful.
Do you think there are any positive outcomes for the competition from the current situation?
By refocusing on designing the car and by not needing to manufacture the car on a deadline, we got the chance to concentrate on different matters that were long overdue. Apart from some managerial changes, like implementing a new project management system and carefully documenting our internal processes and rules, we also took great care in training our members and addressing our weak spots.
Do you think it is beneficial for the teams to participate in an online competition and why?
We believe, that any event that gives us a chance to have some "racing" season, even if limited, is crucial for building and preparing a strong team for the next season. Since FS teams and their success are inherently unstable, as their members change frequently, getting feedback, new experiences, and challenging ourselves during this time is crucial.