Introduce your team briefly.
We are the UPBracing Team at the University of Paderborn, Germany. After 13 years of designing CV-racecars, this is our first season designing a CV, EV, and DV car in parallel to accomplish our full transition to future technologies. With currently 80 active members, we are building the base for rigorous, continuous, and sustainable development over the seasons to come.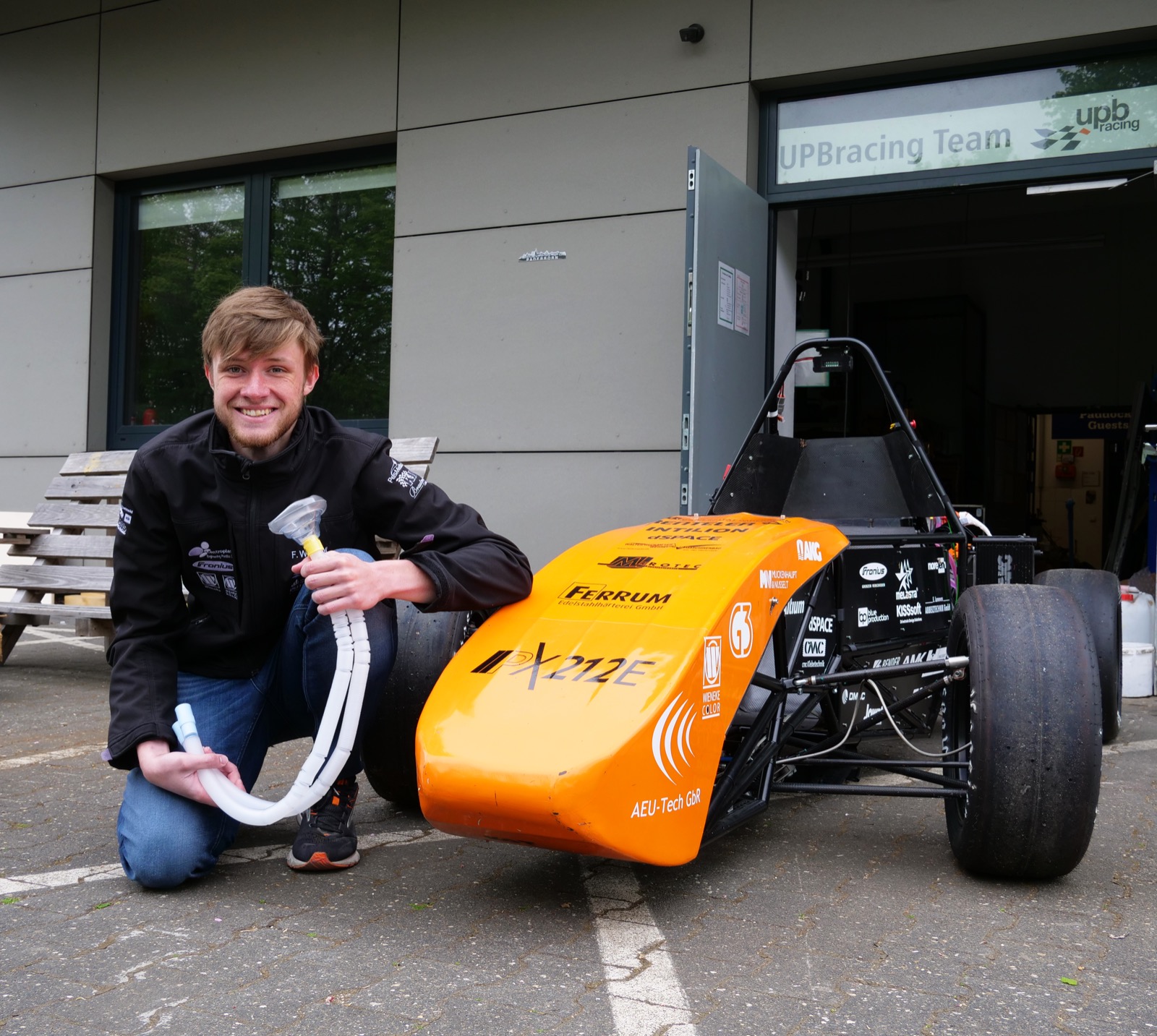 How did your team deal with the situation, what challenges did you face and how did you resolve them?
The reason our team exists is to sustainably provide students with the opportunity to apply their theoretical knowledge to real world solutions and even expand that knowledge. As the built of our race cars was not an option anymore, we focused on shifting to new projects to keep the team motivated. After we finished the all documents for the cancelled race cars, this resulted in us developing a medical respirator against COVID-19, but also in the rise of new outstanding ideas for our future cars. The team quickly realized that it's up to us, whether we see this time as a setback or an opportunity. We chose the latter.
We fully switched communications to online video conferences and kept the hard work running, even if only in homeoffice, as if nothing ever happened.
What will you do differently for the online event?
We will take more time to elaborate on our static disciplines, especially the EDR, but at its core, we prepare the same way as for any real event, just without the actual car.
What is your biggest achievement in Formula Student so far?
The 1st place in the Business Plan event in 2018, as well as EDR finalists in 2018 and 2019, were special occasions for us.
More recently though, we've been able to establish the development of an electric and a driverless car in the team with a team size never seen in our previous seasons. Our electric prototype did its first laps in February this year, autonomous will follow. To see the technical progress from the creation of our team until today is a truly remarkable achievement.
Do you believe the future of Formula Student can adapt to the COVID-19 crisis and how?
I believe so. It's not possible to entirely recreate the experience that building and racing the car at the events surrounded by like-minded maniacs is giving to us. And we need to notice early that this shouldn't be the objective in times like these.
A new form of experience must be created that attracts the students in the same way. We want to learn, we want more than plain studies, we want to work like hell to solve a real problem as a team, make it a reality and see it in action. We want to be part of an amazing like-minded community. This is the essence of Formula Student, not simply cars. And if there's the actual attempt to incorporate the motives of the FS member into a new concept, attached to cars or whatever else, instead of try-harding a copy of the actual Formula Student, I have no doubt that we will find a longterm sustainable solution.
What can the Formula Student organizing bodies do to help the struggling teams due to the current events?
The biggest struggle for the teams, from my perspective, is firstly the lack of orientation and objectives, secondly the potential loss of sponsors and financial support. Within our team, we keep the work alive and fully focus on the upcoming season now and have a clear milestone in mind. Considering sponsors, we also don't know yet which consequences the current situation will have on our manufacturing period at the beginning of 2021.
Most importantly, the FS organization must shift the teams' focus to some sort of near-future plans to provide the teams with a secure anchor point. Let them know that there'll be something worth putting in the time and effort for. This will help them to hold their members together.
Financially, hard times are about to come, and many teams could suffer from a recession. An option might be to adjust event scorings according to the financial investment needed to build the car. Of course, this would result in less performing cars, but it is a great sign of the Formula Student's focus on resource-efficient development. This would also counteract the dominance of the top teams due to their insane budgets – not the only factor of course, but a huge one.
Teams will see their chance to win by inventing new more economic solutions rather than overkilling the development of a single car that stands in no ratio to its financial investment. This philosophy would promote creativity over brute money spending.
And in times like these, it's an amazing switch of mindset to focus on resources, not just the performance. Imagine electric-autonomous cars being developed in FS that might actually make the market (probably not having five LIDARs and cameras attached to it).
Do you think there are any positive outcomes for the competition from the current situation?
These times give great potential for the competition to overthink its future strategy. There's a huge potential in the FS community to actively contribute to societal problems, and we are having enough of those now to create multiple different competitions to solve them.
Do you think it is beneficial for the teams to participate in an online competition and why?
After a year of development, it certainly is a good idea to get some external feedback for your concepts rather than pushing potential mistakes to a second season. The online competition is an example of a feedback source which is why we're taking part in it.
Did your team help your local society with the COVID-19 situation, if no, please ignore this question, if yes, please provide an example.
In cooperation with the VDI OWL, we started the development of a medical respirator to support the need for medical equipment in hospitals. With 22 FS members from two different universities and a large amount of support by local doctors and professionals from the industry, we developed a fully functional prototype for it. We'll open-source the results and our knowledge rather than going for mass production and supply of the device, as we see the risks that some immature devices put on the patient's health. We'll leave that to the professionals, still, we were able to gather valuable experience.
Personal Statement
COVID-19 offers us time to start thinking differently and future-oriented – technically, socially, and economically. I'm looking forward to seeing the FS organization using this opportunity.