Introduce your team briefly.
Grand Prix Engineering is a team of dedicated students of engineering, economics and media studies from Maribor, Slovenia. We are experienced in developing and manufacturing of high-performance lightweight race cars with a mission of fulfilling dreams of many passionate motorsport enthusiasts. Our vision is to produce the best possible results while we learn and discover new knowledge that will make us better engineers and leaders.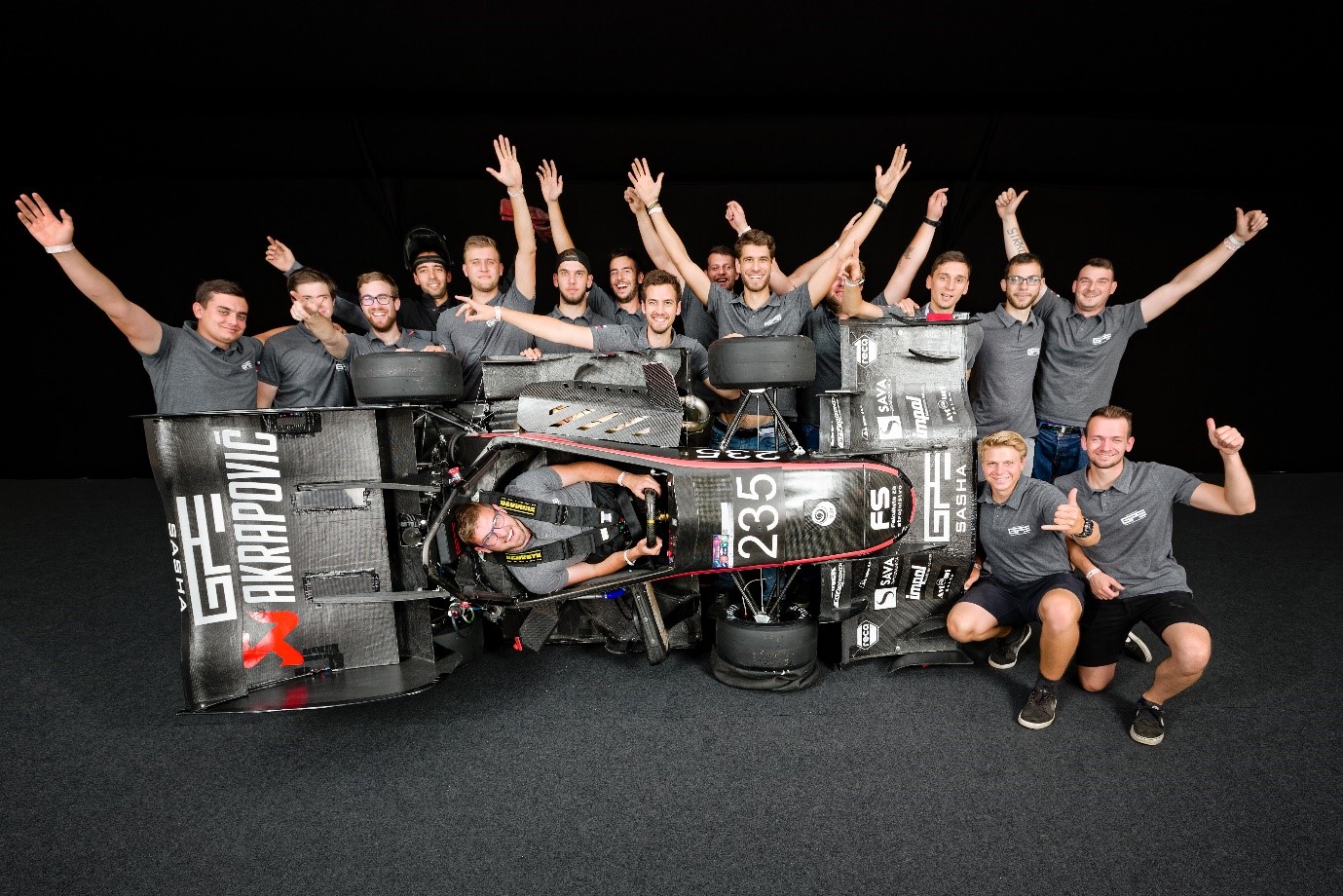 How did the cancellation of the formula student competitions impact your team?
The cancelation of most competitions posed a great challenge. Our workshop was closed (and still is at the time of writing), we lost some sponsors for economic reasons and our production of the new car nearly halted.
How did your team deal with the situation, what challenges did you face and how did you resolve them?
We focused heavily on improving team communication, resource, and time management as well as knowledge transfer this year, and that helped us tremendously during this quarantine situation. We finished our reports and prepared for static events. Our meetings were all done online, and our communication went up another level.
Even though production was halted almost everywhere, we managed to get some parts manufactured.
What will you do differently for the online event?
We organized some classes for successful presentations and public speaking, so we can be better prepared for video presentations.
What is your biggest achievement in Formula Student so far?
Having a great team and building a working and competitive racecar while working with severely smaller budget than most of the other teams.
Do you believe the future of Formula Student can adapt to the COVID-19 crisis and how? 
Depends if there is the need for it. Nothing can replace producing a racecar. Without physical validation, we cannot judge a successful design.
Static events, specifically cost and business, are more suited for online presentation.
What can the Formula Student organizing bodies do to help the struggling teams due to the current events?
We believe we should postpone the Driverless cup, since the development is struggling right now and probably will for quite some time.
We like the idea of some online classes and lectures from industry-leading experts who have experience in formula student.
Do you think there are any positive outcomes for the competition from the current situation?
A positive mindset is a great thing to have in life and in formula student. It is hard to find any now, especially if we compare this competition to 'regular' ones. One of the benefits that come to mind is that the whole team can be a part of static events, everybody can be hands-on and contribute (as opposed to few members who usually present to the cost, design, and business judges).
Do you think it is beneficial for the teams to participate in an online competition and why?
Yes, competitions are our ultimate goal and the whole point of a season. We gather experience trough questioning and we increase our knowledge while preparing our presentations.